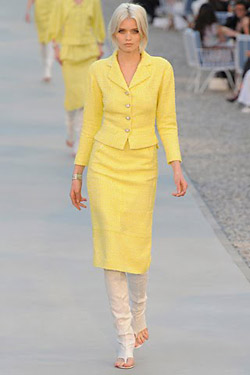 You know that feeling you get when you have put together the perfect outfit? You can see people staring, evidently thinking to themselves, "why can't I dress like her?" and you can see those people who think they are "above fashion" casually slump down a little in their boots-they look drab, you look fabulous...embarrassing. But stylishly dressed people don't dress well to be mean, they dress well because it is in their blood. And...at the Chanel 2012 Resort Runway Show style was not just in iconic Lagerfeld's blood...it went beyond that.
Luxurious, elegance, excellence this show couldn't be bottled or pinned up into just one word, it was extraordinary and watching the show you catch yourself thinking "I desperately hope next summer I am whisked away on a deeply beautiful resort cruise and I had better have a complete wardrobe of Chanel resort 2012!" Of course this is just one of the fantasies sure to cross your mind during the show which took place at the Hotel du Cap in Antibes on the French Rivera. Easily one of the most sought after and expensive vacation destinations along the Rivera!
According to Style.com Karl's inspiration for the show was Rita Hayworth and Aly Khan 2 popular guests' of the Hotel du Cap. As striking as these two -if-you-will muses were the runway show was not about to omit supermodels from the scene. Kristen McMenamy, Stella Tennant, Natash Poly and Freja Beha-Erichsen were just several of the amazing models to strut down the runway.
The best part about this show? This show contained everything! You could see everything from a lazy day on the beach, to an evening affair to a wedding and that is what captures audiences. To have such a diversity yet a compacted beauty within the show was really amazing. It is rare designers can achieve such excellence so fluidly.
Chanel Resort 2012, it was everything one could ask for. Now, we have all be left wanting every piece of the collection.