The next stop on Kate and William's tour of Canada was Prince Edward Island. Kate looked gorgeous in a nautical inspired knee-lengthened knit dress by Sarah Burton the designer for the British fashion house of Alexander McQueen. The dress was delicate and feminine and featured a soft tie at the neck. The best part of the dress was the navy stripes around the rims of the gown. Matching navy heels capped off the outfit.
William and Kate wanted to get a true taste of the island so the events planned for them to take part in were filled with excitement. The couple arrived in Charlottetown on Sunday evening. They had a reception at the Peake's Quay restaurant which over looks the beautiful waterfront.
In P.E.I. Prince William took part in a training practice only performed in Canada in a Sea King helicopter. The couple also visited a military fort that was constructed in the later part of the 1800s under the watchful eye of the British military engineers.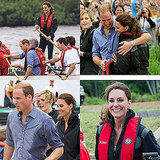 One of the most exciting activities that Kate and William took part in was a dragon boat racing competition. Kate admitted she fully expected William to win, but William claimed the two of them are both competitive. In the end Williams team won, but the two equally loved taking part in the activity.
Huge throngs of people gathered to catch a glimpse of the couple of the moment. William and Kate were always very friendly and loved shaking peoples hands and meeting people.