C
alling all Muppet lovers! OPI's latest collection is inspired by the popular kid-friendly puppets: the Muppets!
Get glittery! This colletion sparkles like mad.
This Christmas the Muppets will be hitting the big screen in Disney's The Muppets and so OPI is making a polish collection to go along. The movie will feature all your favourite Muppets characters as well as some of Hollywood's hottest stars: Amy Adams Jason Segel and Chris Cooper! This adorable family friendly comedy promises laughter for all. Stay tuned....it hits the movie theatres on November 23rd.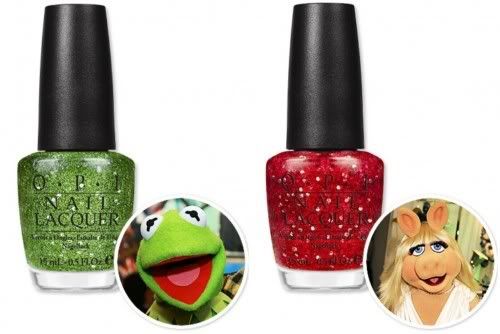 Polishes inspired by the characters!
OPI is launching a 12 piece special edditon collection for holiday 2011. The polishs are inspired by the fun-loving Muppet mood with colours ranging from cherry red to plump purple! It get's better.....6 of the 12 polishs come in pure glitter! Paint yoru tips a sparkly colour: anything from green to pink to multi-coloured!
This collection looks as cute as can be! Are you excited? Post a comment bellow to let me know...